MotM Spotlight
N/A
MONTH: --
Congratulations to N/A!
RP Info
Chilly winds | Dark clouds | Late evening
RP Season: Late Autumn
RP Event: N/A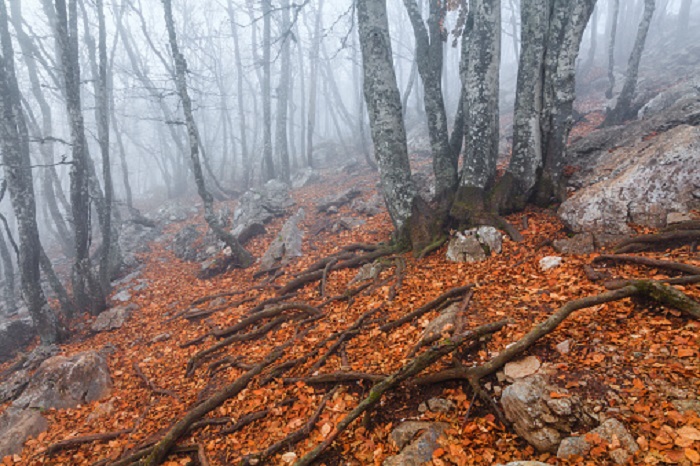 MOUNT JAAR
Location: East      Hazard: High      Size: Large
Mount Jaar is the most dangerous area in the pack's territory. It is very rare that any wolves will find themselves needing to come here. Trees are thick and the soil is loose with many huge rocks scattered about, which is a recipe for disaster in the form of falling trees and rocks that will roll down the mountain side and crush everything in it's path. Mountain lions are known to meet and prowl about here.
Last edited by Zyro on Mon Sep 12, 2016 2:28 pm; edited 1 time in total
Loose soil, towering primitive trees, scattered rocks of every shape and kind and a chilly feeling. Pretty simple, this land was becoming even more unwelcoming each second that passed. Parched leaves and fallen crimson branches with hints of agouti and tortured brown, thick underbrush embraced by splotches of mixed faded green, the perfect melancholy theme. Slate gray clouds and a thick quilt of fog touching the ground, pleasant, wouldn't you agree?
A pair of tepid eyes had already started to scan the 'land of the dead'--dead, indeed it was so silent, silent... overwhelmingly silent. Only a few concessional chirps could be observed dying and resurrecting themselves in the distance where his eyes could not reach--dim light covering the trees ahead had deemed their location impossible. A deep growl was constantly heard from his lungs, he couldn't bear it anymore. The land and his poor mind had already started to turn against him. With every movement all he could hear and see were shadows, shadows of purple, black and gray--was he dreaming? Was this just another hallucination maybe? A trick of sorts? No, no, no, no, no... This could not be, he was sane, right? Right? The last bit of his phrase kept dancing in his head "Sane, sanity, sane, sane, sane... sane..." Was he sane really? Was his mind stable, was it able to hold its ropes to avoid collision? Unknown, unknown... unknown, such thing was unknown--uncertain. Maybe it was just the lack of light and the general mood that forced him to hear things, yes... maybe it was just this.
Whipping his head around, the lad continued on, insecure steps marking his way. This portion of the land was something he had not before seen, everything here was so dead and silent... silently dead as someone would characterize it. An occasional few squirrels could be seen leaping from one tree to another with remarkable speed; at least they kept him company. Ah yes, company such a pleasant bundle of words... Someone would always be there to keep him company, even if this was for a few mere seconds. Someone would always be there, let it be that Blonde male who he managed to nearly scare off in the first place or that childish gal carrying the name of Ceara, either of them would do--they were always there for him. Well, at least in the future they could be?--Question-mark... a dull question-mark was observed on the end of this lingering inquiry. Even on that he was unsure.
Thump, thump, thump.... a mixture of constant pacing and observing was what kept him busy throughout his Sunday walk revolving around an endless dying, flat gray land untouched by man's destructive paws--paws? Was it paws? A raised eyebrow could be observed on his visage. "P-paws?" a quiet muttering was accompanying his ever-moving silhouette. "Paws it is then..." another chirp of his voice followed shortly after--it was pointless to think of that, it wouldn't be of any help in his search for that odd plant Brume mentioned hours ago. In his memory it was red... or pink? Pinkish red maybe? "Screw it" a sore frustrated snort claimed its freedom as his jowls parted, signalling his head to kick-start a violent sake. He'd find that plant no matter what, be it pink or red he'd find it eventually.
Reaching a densely wooden area, Agahi came to a stiff halt, paws and claws trying to grab each and every particle of that forsaken unstable ground beneath him to make his body stop. There it was, that... that plant--that pinkish red plant he'd never before seen in his life. Its petals seemed to be oddly long with an impressively large core rested in the middle--that was it... probably. Noting that in his mind, he arched his neck forward towards the piece of green, pink and pale red with a curious nature surrounding his gestures. Studying the pinkish purple organism didn't take long, after all it was clear what he had to do; bring it back to Brume and the rest of the medics. A quick snap at the bottom of its roots was what followed and with that, the lad spun around headed back the way he came.
Confusion and a touch of dread was what followed next; a foreign aroma, a scent which kept becoming stronger and stronger by each passing second had alerted his senses. He was no longer alone, someone kept him company, someone he couldn't place on his visual field... A ghost, a phantasm. A panicked snarl rushed itself out of his lungs, who or what was the origin of this peculiar aroma? Was it a feline, another canine? A... dog? What was it? The cracking sound of wood made him snap out of his fantasies, what was once invisible to his mere eyes was now descending down an aged bleeding tree rested to his right. Rugged fibers of beige and cinnamon was what he could see rested on top the shadowy figure. Zeroing in, a pair of copper colored orbs with pupils so small, barely visible to the eye were noted. It was clear now, it was a mountain lion, a big feline resulting in a high risk. What had once started as a search for herbs had now ended as a death sentence. The land was claimed by the cat rightfully--it was its land now, the lion had every right to get rid of any trespassers who disobeyed the laws set in stone.
With fur set on end and hackles raised, Agahi's jaws forced out another snarl, a warning if you may. Saliva oozing down his chin and thorax could be observed with ease, he wasn't going to submit this easily. With the feline roughly the same size as him the fight would be fair considering their mass was about the same, but with the cat outweighing him greatly. Scathing was what followed, it was obvious neither one of them were backing down, the feline had the advantage--it was about time after all. How long could Agahi hold on with an opponent possessing a much greater amount of brute force? Not long as the facts quickly convinced him, he was pinned on the ground with a collection of bulk and plain muscle on top of his chest. Raves both originating from his ruffled opponent and himself broke the scenery's silence--neither of them wanted to be on the bottom of the food chain, jowl snapping, scathing, scarring, there was a word for everything that took place on top some parched autumn leaves.
Crack... bones, bones breaking--the chilling bone breaking sound reached the ears of every soul which dared to cross their way. One of them had fallen, one of them could no longer stand on their feet and head the way their hearts longed--home. One of them was a feast for the crows, a blessing for any scavenger. Agathor, as Ceara would refer to him was the one... The one who lost the fight, the one whose sword broke during the battle, the helpless little rabbit who never reached home.
-------
Mentioned: Brume, Ceara, Ceviche, pretty much everyone
Addressed: No one really

OOC: May his soul rest in peace~



Rezza | Male | 2 1/2 Years


"Tu m'as comme donné l'envie d'être moi, donné un sens à mes pourquoi. Tu as tué la peur qui dormait là, qui dormait là dans mes bras."

ADR: @all

Ment: [Void]

OOC found agathor ;;
[Howls Loudly]



The pain had died down as he moved, fervently towards the looming jagged horizon. The only thing he had to guide him was the mountain that seemed more foe than friend. It's shape was hostile and fierce, though he remembered it being much friendlier up close, when he had napped on it. Perhaps perspective was all one needed to see the true personality of things.

He thought back towards his behavior earlier, the hot burning of his skull fighting his thought process. He didn't even know that wolf, so why did she manage to upset him like she did? He didn't even remember what she'd done. (Though it was the knock to the head had accomplished that.) He vowed to apologize to her if he ever saw her again. If she hadn't left.

Guilt racked atop his already sore mind. What if she left because of him? What if she went out into the wilderness and starved to death or something? He stumbled, needing to use his full concentration to maintain his balance.

He'd leave those thoughts for later. He needed to focus on the mountain that weaved in and out of his vision as it still spun. He closed his eyes and shook his head- suddenly reminded of the weight in his jaws. He had forgotten the hare that he still held in his mouth, its body now limp and dead. It had slowly died, painfully- as he'd forgotten to end it quickly. He shut his eyes for a moment, stopping to apologize to the dead animal.

I'm sorry I forgot you, please forgive me for making you suffer. He stood still for a moment of silence and respect, before he continued on.

It felt as though he'd traveled at least twice as far as he thought he had initially come. Though the mountains were closer now. But they seemed wrong. Craggy and steep, unlike the gentle slopes he recalled. Had he gone the wrong way?

His brow furrowed in frustration. He couldn't help but let loose a snarl that worked its way around the small body between his teeth. Stupid! Stupid, stupid! Little agathor was right, at least partially right. He was an idiot.

He was about ready to lie down and give up when the scent of somewhat fresh blood came to his nose. WAs he imagining it? No. There were the calls of crows. He sniffed experimentally. It seemed like his nose was working somewhat right... or at least the scent was strong. It had to be a big animal to leave this strong of a remnant. He found his feet moving him closer before his mind throbbed to process what was going on. He ran, half stumbling towards the mass of feathers and the black thing underneath.

What were they eating? It smelled almost familiar... what w-

...

No.

He dropped the hare.

"GET AWAY FROM HIM!"

He shooed the birds away, swiping and snapping at them. He looked on at the tattered remains. It was amazing how fast crows could work, the bits of flesh torn away from the bone littered the ground. And the remains... something had hurt him bad. Had hurt gramps...

There was no way. He was seeing things.
It was because he'd hit his head, for sure.
That had to be it.

There was no way...
Agahi was back home, sleeping at the den.
He

He gave an experimental prod with his nose to the older wolf's cold forehead.

It was actually there.
He wasn't dreaming.

His throat felt tight, his swimming head still burning- but now with hotter feelings.

Regret.
If he'd stayed behind...

Anger.
Why didn't the others protect him!

Sadness.
His friend was...

He stood there, immobilized by shock, still trying to process what had happened. He was brought back to reality though by Zyro's howl. It echoed on the edges of his perception, but he was sure he heard it. The Alpha was calling them back. But Agahi couldn't go back. Where he had gone... there was no way back. He felt something in his throat and stumbled away a few steps to dry heave- his stomach too empty to properly throw up. Now his throat burned with the rest of his head, but he had to let the others know.

He had no clue where he was, but the could find him- if he had heard zyro, then for sure the others would be able to find him if he...

A lone cry called out from the cold mountains, low and loud- calling for help.




rip agathor omg




"

Chit-chat

"

The wee wolf started her way south, though she'd gotten sidetracked by Blondie's husky song and instead scampered east. A pang of guilt rest in the back of her mind for not immediately obeying Zyro's wishes to return, although Blondie's call, blended into a mixture of curiosity and worry, beckoned her. In youth, as a pesky little morsel of a puppy, curiosity hadn't managed to kill the wolf, though it had gotten close. This curiosity and need to adventure carried on into adulthood, and thus far, had brought her through the domain of soft earth, blanketed with moss, all the way to these harsher lands of thick erect firs and sharp jutting stones.

"

How did Blondie get here?

" thought the milky girl aloud, taking great care to step properly in these risky lands. Little paws felt around for their proper footing before continuing, which continued, paw after paw. Perhaps he got sidetracked during his hunt? Perhaps he gave chase to a hare and traveled here? Either way, she felt that for him to travel here would not be worth it--Though he was large and may be able to defend himself from threats, these lands weren't ideal, not even for a whiff of adventure, for the trees were too thick to navigate, the footing too iffy, and the predators, judging by scent, too abundant. Perhaps when she grew more comfortable in the pack she would revisit these lands with ease, however, on her first full day as a member, she did not belong here.

Her worries dissolved upon the scent of Blondie and blood entering her nose and her tail began to waggle, happy that he was near, and obviously, with the powerful stench of blood permeating the air, he'd made a kill! A big one, as well, by the smell of it, a rich and coppery stink hanging. Ceara sped up, her gentle steps being replaced with enthusiasm and her eyes alight with excitement: "

Maybe an elk?

" she squeaked happily to herself "

Or maybe even a moose?!

" Her pupils quickly rolled upwards as she recalled the strong taste of the gamey meat, raw, earthy, bloody, and over all, delectable. By the time she arrived, she was salivating, although what her eyes met was not what she was expecting.

Ceara had a feeling something was not going over well in this place. She was overtaken with an apprehensive air and jolted, stopping in her tracks. She was close enough to know the smell was not of her favorite meal, no; she knew the scent, having gotten little scraps and tumbles as a pup. Her own kind. She saw Blondie, thankfully alive, his large body standing motionless and...

something

... Among the trees. Though she dare not continue.

A loud whimper escaped from her tight throat, an indication of her presence for Blondie. The little wolf withdrew in her pelt and shrunk, her tail curling in between her legs in dubiosity. "

Cev- Ceviche-

" struggled the girl, ears folding back "

What's happening? Something isn't right here.. Is it?

"

Ceara tried to force her eyes away from what her friend stood upon and her mind was avoiding touching the subject, though deep down, she knew.
template by Sammy @ Adox 2.0 / Stock

Ceara

Rezza




Posts

: 241


Location

: land of maple syrup





After his howl the area seemed to be too still. Too quiet. His head swam with more than just the pain from his collision with the tree earlier. He tried to shake it off again, his motion this time not encumbered by the hare he'd dropped a few feet away.

Te tried to pace, stumbling around. What if no one showed up? Would he have to live out here with agahi''s body and the smell... He hurked. No, no what if- what f they did come; but, they blamed him? What if they shooed him away from his new home? He was planning on telling the leader that he was going to stay around a while, but if this didnt just put a damper on things.

He tried to reason out a way that everything would end up fine- except it wasn't.

Nothing was fine right now.

Agahi was dead, Jackaal had left, Zyro was hurt- and from the way he was stumbling around he might even die too.. and even Ceviche himself wasn't sure if he'd be able to stand upright much longer. The throbbing pain in his skull seemed to intensify every time he tried to think- and hell if he wasn't over thinking everything right now.

Ceara's whine fell deaf on his ears. He wasn't paying attention to anything around him, he was too busy fretting, and trying to make sense of things. Why was agahi even out here? What did this? Was it still around? It wasn't until she spoke he payed any mind.

"Cev- Ceviche-"

His head snapped around- thouh not quite out of his daze; the words had spooked him- his nerves already strung higher than the tree tops. "I-I-"

"What's happening? Something isn't right here.. Is it?" His blurry vision tried to focus on the white lump that spoke. The voice belonged to Ceara. She knew something was wrong. She couldn't see this. Not this.

"C-Ceara, don't." His voice cracked into a whine, the words barely making their way out of his throat. He made sure to stand between the body and Ceara. Maybe she wouldn't see. "D-don't come any closer." His eyes were wide and frightened, though they had trouble concentrating on any one thing. "I couldn't- He-" What could he say? 'Oh hey Ceara, I got lost on the way back and found Agathor's dead body?' No, stupid, stupid.

"I didn't think..." he trailed off, the blame in his head circulating again. "You have to go get help." Like they could do anything now. There was no way that anyone- even the best healer in the world- could save Agahi now.




headin onto the densite




"

Chit-chat

"

Legs shaking, Ceara looked expectantly at Ceviche, awaiting whatever he may have to say. This wasn't right and an eerie feeling penetrated her heart. She hadn't seen it, though she had her suspicions. And just out of sight lay Agahi's already sunken body, fur and skin picked off by ravens. Surely they would feast that day. Ceara wouldn't think of that, no--She was naive.

D-don't come any closer

managed her large blonde companion, shaken as ever--Ceara felt great worry for him and whatever else lay beyond the tree. By then, the stench was growing stale in her nose and sickness began to stem from the apprehensive air, tickling at her throat and gut. She struggled back twists and contractions in her throat to speak "

It will be alright, friend--W- we can figure this out..

"

You have to go get help

he spoke again. "

Oh! That's a good idea! I'll find someone! Don't worry, Ceviche...

" Already starting to canter west to the others, Ceara spoke loudly as her head twisted to touch his eyes with her own. After some distance, first struggling to ran through the rough terrain, she began to release several sharp barks, heading towards the den site.
template by Sammy @ Adox 2.0 / Stock

Ceara

Rezza




Posts

: 241


Location

: land of maple syrup



-۞-
As much as Zwei wanted to race ahead after the scents, the very feel of the soil beneath her paws, loose and rough, made that idea very unappealing. She was liable to trip to her death amid this minefield of rocks and trees, thicker than the ones she'd seen around the den and much too sturdy to risk accidentally hitting. As she walked, occasionally glancing behind her to make sure Nieve was still okay, a painfully familiar smell floated to her nose, and she had to stop for a moment to catch her halted breath and reassure herself. It smelt like Willow had smelt...in the end, when she'd had no more reason to stay; the smell of loss and decay, of raw pain. Zwei snapped out of memories and quickly convinced herself that it was just some predators kill, that it had nothing to do with the howl, or the two wolves scents.

When she could finally breath easily again, Zwei began to move, and discontent only bloomed more in her heart as the smell grew stronger with every meticulous step. She'd nearly forgotten to check on Nieve, and took a cursury glance behind, quickly offering as much of a smile as she could manage toward the she-wolf before continuing on. It had been hard to tell before, when she'd been further back, but there was something familiar about the death-smell, something hiding at the back of her mind and on the tip of her tongue. She could only hope that it was intermingling smells playing tricks on her.

The first thing she noticed when she reached where the scents were strongest was the wolf she knew as Ceviche. He didn't look to be in good shape, wobbly and disoriented, almost panicked as he moved back and forth strangely. She was about to ask if he was okay when her golden gaze dropped to a dark form nearby him, a mix of black fur, open flesh, and bones, and-

If Zwei hadn't had two sets of claws planted firmly in dirt, she was certain she would've sunk to the ground as a torrent of emotions ravaged through her, wild from months of hibernation deep within her heart. The she-wolf heard distant noises, warbled like she'd been dunked under water, and dully realized that they were coming from her, a low whining, like every other sound had been ripped away from her. And it hurt, like a sharp stab of ice in her ribs, so familiar that it was hard not to see silvery fur on a thin frame, so still and so empty-

The world rushed back to her dizzily, Zwei's gaze was still set on the miserable form on the ground, and she forced herself to look away, to breath around the ice in her lungs and the sick feelings brewing in her stomach. It wasn't difficult to figure out what the howl had meant now. "Ceviche..." Her legs were weighed down with lead, dragging along the ground with every tedious step closer to the wolf, to Agahi...what used to be him. "A-are you okay?" It was clear whatever had done this was long gone, and Zwei could only be glad for that fact, stomach tightening up painfully at the mere thought of what had happened, why the older wolf had been out here alone, what could've done this... It hurt to look at the broken body, torn and ravaged, when the image of Agahi was so fresh in her mind. "We...we need to get back to the others and....and tell them" Zwei swallowed heavily around the feelings in her throat, forcing them down until she could grieve properly, when she hadn't been sent here for a reason. Ceviche was in such a state of distress that her heart clenched sharply to look at him, disheveled and frantic, so broken up, and she doubted her feelings were anything compared to his.



Mentioned:
Nieve, Agahi, Ceviche
Addressed:
Ceviche
OOC:
;-; my heart 3
Template (C) Kamaal

____________________________
Art by the lovely Ceviche

Zwei

Head Spear




Posts

: 329


Location

: hell probably





He trudged around after Ceara vanished from view, the blob that her voice came from at least. He felt his heart sink further. What would she say? He was relieved she didn't see... him- but at the same time he feared that she wouldn't see him in the same light anymore. What if she thought it was his fault?

His thoughts churned in agony until he heard another noise break the silence. Was it Ceara again? Had she come back already? That was fast. Or maybe he couldn't keep track of time the right way anymore? He tried to glance at the sky to see if it had gotten late, but the bright sun (even hidden by clouds) seemed to burn away at his core. He quickly flinched away from the light and directed his gaze back at who he thought was Ceara.

No, no, no, no, no, no. She was coming this way. "Ceara, I told you to go get help!" He shouted, sounding more pained than angry. No, she was going to see the mangled body of pops. He didn't want her to-

"Ceviche..."

That wasn't her voice. That was all wrong. He tried to focus his vision on the white wolf. That wasn't Ceara. Her pelt wasn't as pure as the others. Her markings were completely different.

"A-are you okay?"

He felt his throat clench, holding his words hostage- but somehow a few slipped free. "H-how can you... Pops is dead! Who cares about me!?" His voice cracked into whines again, as he choked back emotions. It hurt. It was unfair that he could still be upset and Agahi couldn't.

"Who... who let him even..." His voice trailed off as he tried to speak again.

"We...we need to get back to the others and....and tell them."

"And do what? Leave Agahi here? Let the crows have him?!"[/i][/i] The weight seemed to slump from his shoulders. He felt pathetic. He didn't even know which way was back. There was no way in hell he was going to leave Pops here though. "I won't- nnngh," He shut his eyes hard against the feeling as another sharper throb of pain from his head injury pulsed through his skill. He opened his eyes again, trying to make eye contact with the head spear. "I'm not leaving him here, alone. Not again." Even though his words were somewhat big, his voice came out sounding so very small, weak, drained of strength. He was determined though not to leave his friend's body to the scavengers.
-۞-
Each painfully familiar sentence out of the manic wolf sent stabs of raw empathy into Zwei's heart, memories flashing at the back of her mind. The logical part of her brain screamed at her to calm him down, talk some sense into him, but she knew all too well that logic had no place in grief, in overwhelming sadness. Ceviche also seemed to have something wrong with him physically, possibly a hit to the head judging by his wobbly steps, and she doubted that it was doing him any favors. She knew how he was feeling, at least partially, had spent days laying beside Willow after she'd gone, weighed down with so much guilt over her death, chasing off anything that dared come near. Zwei had taken hours to dig a proper hole for her mother, and had spend another two days sleeping beside the make-shift grave, a vain hope in her mind that something would change. She must've seemed just as crazy.

Moving closer had only agitated Ceviche further, and so Zwei shot a look back to make sure Neive wasn't there before sitting in place, head and shoulders shrugging down miserably as she took a glance at Agahi. The body was so torn up, harshly mutilated by whatever had killed him and the proceeding scavengers, and she couldn't look at it too long before she started to feel sick with a mix of horror and despair. Instead, she settled her gaze toward Ceviche, ears pressed back nearly to her scalp as she realized how small he sounded now, how weak the words met the air. "I'm sorry, I...I thinks that a good idea. Do you mind if I stay and help you?" Zwei tried to meet his eyes as best she could, sincerity hopefully shining through the haze covering his mind. She could send Nieve back to tell the others and bring more wolves, and Ceviche didn't need to be left alone like this, not when Agahi was...

"I'll leave too, if you don't want me here, but I..." Her voice was growing heavy with emotion, vained with low whines, "I know it hurts...and it's not fair." Zwei's eyes trailed to her paws, bleary and swimming with things known only to her. "You just want to fix it, because you're here and they aren't, and that's not how it's supposed to be. Nothing can fix it, but... please...let me help give him some peace." She hadn't known him well enough, had only spoken briefly, but nobody deserved a fate like that, torn to bits alone on a mountain. Ceviche had every right to want something better for the old wolf. Willow had deserved better, and the thought squeezed at her heart painfully, eyes glazing over with a wretched mix of guilt and pain. "He deserves that, doesn't he?" Zwei finally mustered up enough energy to gaze weakly at Ceviche, a sad smile gracing her lips as she desperately tried to rein in her emotions.




Mentioned:
Neive, Ceviche
Addressed:
Ceviche
OOC:
It's 3 am and this probably doesn't make sense
Template (C) Kamaal

____________________________
Art by the lovely Ceviche

Zwei

Head Spear




Posts

: 329


Location

: hell probably



Nieve followed the female carefully, it was rocky and dangerous, so every step she took was delicate and her tiny paws made no sound. The area was heavy with trees and fog, worse than where they just came out of, and the reek of the evil mountain hissers was everywhere, stale, but there. Zwei turned her head to check on her occasionally, and each time Nieve offered her a gentle smile, encouraging her forward. She stayed quiet due to having a really bad feeling, Zwei seemed scared, this whole place was dangerous, and the howl surely came from here, so some shit went down.

Nieve almost stopped moving when she smelt the scent of death, she was closer to it than she'd have liked, usually she'd run away when she smelt it, it made her stomach twist. Zwei looked really frightened now though, and she quietly walked quicker in order to catch up, the other wolf's tail almost touching her nose. Suddenly the female in front of her froze, whined and shivered. Nieve came up next to her to see what had triggered it and her eyes widened to the point the eye whites were visable, her ears flattened on her head.

There was a male wolf nearby in a state of panic and grief, and the thing that Zwei froze at was a ripped up corpse of a dead wolf, its scent overran by death, but there was a tiny hint of the smell it had carried before, it sent a chill down her spine, it was one of the scents she caught when they found the opening to the area, the other belonged to the light coloured male.

Nieve quietly watched a scene unfold before, temporarily frozen in shock and confusion, fear was not something she really knew, but this was kinda freaky to her. 'Ceviche... A-are you okay? We...we need to get back to the others and....and tell them', 'Ceara, I told you to go get help! H-how can you... Pops is dead! Who cares about me! Who... who let him even... And do what? Leave Agahi here? Let the crows have him?! I won't- nnngh.. I'm not leaving him here, alone. Not again..'.

Nieve put a few pieces together, so Ceviche was this male in front of them, who was traumatised.  'I'm sorry, I...I thinks that a good idea. Do you mind if I stay and help you? I'll leave too, if you don't want me here, but I...I know it hurts...and it's not fair. You just want to fix it, because you're here and they aren't, and that's not how it's supposed to be. Nothing can fix it, but... please...let me help give him some peace. He deserves that, doesn't he?'.

She shook her head, trying to shake away the shock and try to address the situation. Slowly she lowered her head, her ears flat on her head, and her tail straight down, the tip brushing the ground as it was long. She didn't want to appear as a threat to Ceviche, her presence might frighten him more and she didn't want to accidently scare someone, ever, even if she was one of the least intimidating wolves on the planet. She looked at Zwei, and brushed shoulders with her as a comforting gesture, she didn't know the dead wolf, but she could almost taste the pain that was emitting from both Zwei and Ceviche.

Upon looking at Ceviche again, she noticed his head injury and overwhelming weakness, the fact he was in a state of panic too made her heart sink, she didn't know him, but seeing another in this state just hurt her little heart, she loved everyone. She nudged Zwei gently with her shoulder, and gestured subtly with her muzzle towards his head. She stood up slowly, "Before you get frightened... um, hi, my name is Nieve, Zwei asked me to help her find you" she started, her body lowered a little until she was crouching. "I'm not gonna pretend I knew your friend or what you are going through, but I cant help but notice your injured head, we need to get you back to the other guys by that wall hole, Brume is a leaf mistress, she has magic leaves that could help you" she said.

She stood up taller, "I know you are grieving, but you cant stay here like this, this place is dangerous and you are hurt, you need the leaves and to be with others that can help you and love you, things are much easier to deal with when you're surrounded by allies, and I think it would be most suitable that you tell them what happened here, as you are a witness... we need to let your friend rest peacefully, and we need to get you home, please let us take you home and help you!" she said, a small whimper following her words, the usually exciteable female was left confused and scared, and determined to find a way to help this poor soul.

____________________________
Avatar drawn by me, only for MY use, Character is mine and art is mine. c:
frozenrosez.deviantart.com

Nieve

Mage




Posts

: 135


Location

: England





"I'm sorry, I...I thinks that a good idea. Do you mind if I stay and help you?"

It surprised him. He hadn't really expected that they would understand. He wasn't ready for what she said next.

"I'll leave too, if you don't want me here, but I...I know it hurts...and it's not fair. You just want to fix it, because you're here and they aren't, and that's not how it's supposed to be. Nothing can fix it, but... please...let me help give him some peace."

"He deserves that, doesn't he?"

It was like she could read his mind. He slumped to the ground, finally managing to sit down. His fur was still on end but his expression softened. He nodded slightly, keeping eye contact with the ground. Questions tugged at the back of his thought process. But he tried to calm down, not wanting to make this mess any worse. "It really isn't fair."

The other wolf who'd accompanied... What was her name? He was sure he'd heard it before. Shay? Something like that. But the other one spoke up- Ceviche seemed to tune out most of it, but he caught the name Nieve somewhere.

A few words also stuck out. "We need to get you back," and "You can't stay here."

So they were just trying to trick him. Maybe, they were the ones who sent Agahi to die out here. He glared at Nieve, his fur standing on end defensively.

"You just want me to leave him out here to the birds." He wouldn't. They couldn't make him. Still it seemed like sleep was trying to infringe on his senses. How could he even think of rest at a time like this? He looked at Zwei, his brows raised in an expression that revealed his feelings- betrayed, alone. "I thought you wanted to help-" He glanced between the two quickly with suspicion, and before he knew it he was back up on his feet. "I was wrong."

"No, no no no." He muttered to himself under his breath. "I won't leave him here." He glanced over at the tattered corpse again- he had been avoiding looking at the remains but he had to look again, just to remind himself this was really happening.

Gods, it was even worse than he remembered. He stepped away from the two wolves to go stand closer to his late friend. His back to them. They wouldn't drag him off. No, He was going to stay here and do something... But what could he do? "Don't worry pops... I'm sure you must be cold."

With a distant expression, he set to digging in the hard earth.